You are in:
Home
-
Products
-
Fruit Extract Series
Fruit Extract Series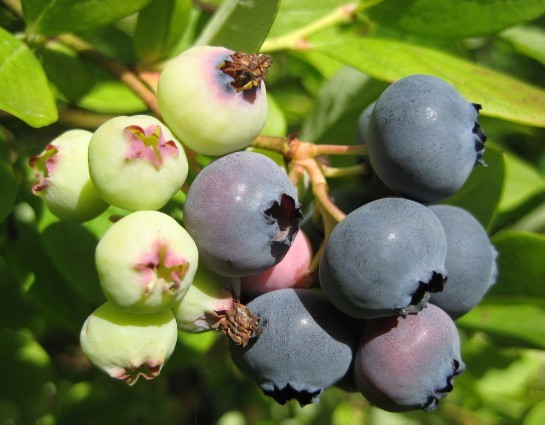 Blueberry Extract
Latin Name:(V. angustifolium Ation
Active Ingredient:Anthocyanin
CAS No:84082-34-8
Specification:15%,25%Anthocyanin
MOQ:1kg
Lead Time:Within 7days after confirming order


Blueberry Extract Information:
Specification: 10%,15%,25%,UV
Latin Name: Vaccinium corymbosum L
Used Parts: Fruit
Color:Violet-red fine powder
There are three major blueberry types:
Highbush (V. corymbosum L.)
Lowbush blueberry (V. angustifolium Ation)
Bilberries (European blueberry, V. myrtillus)
Lowbush blueberries are wild and are made up of many different clones that exhibit a great deal of phytochemical diversity (Kalt et al. 1996). The lowbush fruit is smaller than that of the highbush variety (Kalt et al. 1996). The functional components of Vaccinium products appear to be the phenolic compounds, particularly the anthocyanins (Mazza and Oomah, 2000).
Extracts of the bilberry, V. myrtillus, a type of European wild blueberry are widely used in prescription and over-the-counter medications (Kalt et al. 1994). There are currently over 180 Vaccinium pharmaceutical products available world wide. This type of medication has become increasingly popular, however the European crops cannot meet the global demand (Chein and Camire, 1996).
France, Italy, Germany, and Korea have been particularly active in the development of bilberry products. The anthocyanins of bilberries and North American wild blueberries are generally similar (Kult and Dufour, 1997). Pharmaceutical manufactures are now considering lowbush blueberry extracts as an alternative to the expensive V. myrtillus extracts (Chein and Camire 1996).
What is Anthocyanin?
Anthocyanin, a main color component of herbs, are widely found in flowers, fruits and rootstocks. It is a a kind of flavonoids with multiple physiological functions. Anthocyanin can regulate the permeability of capillaries and maintain the integrity of cells. Besides, it has a powerful function of antioxidant. Further studies reveal that anthocyanin can promote the synthesis of rhodopsin, prevent thrombosis and atheriosclerosis.
Anthocyanin exists in the form of glucoside in natural condition.
Function:
1. Protect eyesight and prevent blindness, glaucoma, improve myopia.
2. Scavenge free radical activity, prevent atherosclerosis.
3. Soften blood vessels, enhance immune function.
4. Prevent brain from aging; anti-cancer.