You are in:
Home
-
Products
-
SFE CO2 Extracts
SFE CO2 Extracts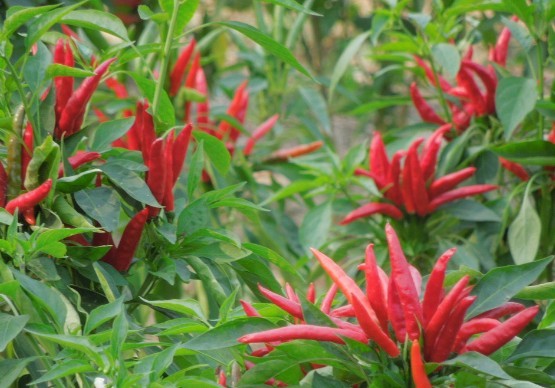 Red Chilli Extract/Capsicum extract
Latin Name:Capsicum frutescens L.
Active Ingredient:Capsaicin/Capsaicinoids
CAS No:2444-46-4
Specification:5%-98%Capsaicin/Capsaicinoids
MOQ:1kg
Lead Time:Within 7days after confirming order


Red Chilli Extract/Capsicum Extract Information:

Red Chilli Peppers Extract capsaicin, dihydrocapsaicin, nordihydrocapsaicin, homodihydrocapsaicin
White crystal Capsaicinoids are the major piquant materials come from the our red Chilli a special species cultivated by our company. It is widely used as painkiller, slim drug, digestion promoting agent, etc in pharmaceuticals. It be used in nontoxic anti-fouling ship paints that painted on the bottoms of ships to prevent sea life such as algae and molluscs from adhering to the hulls. It also be used as insecticide in agriculture.
Major composition of the capsaicinoid from the OHI Red Chilli is capsaicin, dihydrocapsaicin, nordihydrocapsaicin, homodihydrocapsaicin etc.
Name : Capsaicinoids
Chemical Name : 8-Methyl-N-vanillyl-6-nonen-amide
Major Composition: Capsaicin, Dihydrocapsaicin,
Nordihydrocapsaicin, Homodihydrocapsaicin
Molecular Formula: C18H27 N O3
Molecular Weight : 305.41
Appearance : White Crystal
Suggest application:
It is an irritant for mammals, including humans and produces a sensation of burning in any tissue with which it comes into contact, extensively applied to pain-killer. Stomachic, diet drug, drug-breaking methadone in medicine healthy products, daily chemical product in ship paint, biological expellant, green environment protection degradable pesticides, tear bomb and pepper power tube in military defense, because of its spicy-hot property, to be widely used as food additive.

Food grade capsaicin:
Pure and natural capsaicin powder or crystal. Used as food additive.
It condensed hot seasoning additives, widely apply in hot food seasoning with extremele hot flavor
Itcan be used as common seasoning in restaurant hotel. Canteen and home kitchen ,people to experience pleasurable from eating capsaicin-flavored foods
Natural antiseptic for food .
Function:
1.As a cardiovascular stimulant, Capsicum assists in lowering blood pressure and breaking down cholesterol buildup. The warming properties of Capsicum are useful for people suffering from poor circulation to the hands and feet and other related conditions.
2. Capsicum has been used as a digestive aid to ease intestinal inflammation, stimulate protective mucus membranes of the stomach, and also relieve pain caused by ulcers.
3. Capsicum is commonly used to buffer pain from other ailments, including arthritis, varicose veins, headaches, menstrual cramps and respiratory conditions such as asthma.