You are in:
Home
-
Products
-
Hot Products
Hot Products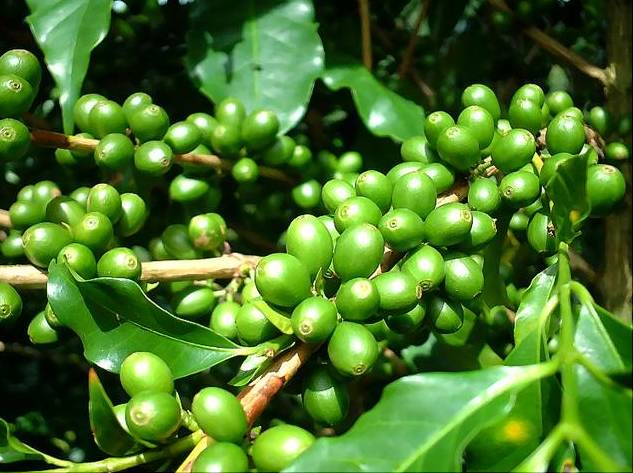 Green Coffee Bean Extract/Chlorogenic Acid
Latin Name:Coffea robusta or Coffea arabica
Active Ingredient:Chlorogenic Acid
CAS No:327-97-9
Specification:45%-98% Chlorogenic Acids
MOQ:1kg
Lead Time:Within 7days after confirming order


Green coffee Extract Information:
Green coffee refers to coffee produced from coffee beans that have not been roasted. Green Coffee Bean Extract comes from the seeds of Coffea robusta or Coffea arabica. Cultivation of coffee beans originated around 1100 AD in the area of Arabia on the Red Sea.
Specifications: 45.0%-50% Chlorogenic Acids Test by HPLC
Molecular Formula: C16H18O9
Molecular Mass: 354.31
CAS NO: 327-97-9
Green Coffee Bean Extract is sourced from Europe and is standardized to more than 99% Chlorogenic Acid. Chlorogenic Acid is the compound present in coffee.
Which has been long known as for its beneficial properties. This active ingredient akes Green Coffee Bean an excellent agent to absorb free oxygen radicals; as well as helping to avert hydroxyl radicals, both which contribute to degradation of cells in the body. Green Coffee Beans have strong polyphenols which act to help reduce free oxygen radicals in the body, but it is standardized to more than 99% Cholorgenic Acid, a dietary polyphenol that helps to regulate metabolism.
Test results showed Green Coffee Bean had more than double the rate of oxygen radical absorbance capability when compared to green tea and grape seed extracts.
Green Coffee Bean Extract is made from the green beans of the Coffea Arabica plant. There are two types of coffee plants, arabica and robusta. The arabica is higher in quality and higher in chlorogenic and caffeic acids, two primary compounds responsible for anti-oxidant activity.
This extract contains at least 99% Chlorogenic Acid, a dietary polyphenol. Along with being a great anti-oxidant, there is evidence that Chlorogenic Acid may have biological effects in the small intestine that alter patterns of glucose uptake, helping to regulate the metabolism.
The Caffeic Acids act as stimulant, providing a safe energy boost while being naturally low in caffeine. Boiled coffee drinks contain cafestol which is associated with the negative effects of using coffee as a stimulant, this is not present in green coffee beans or the extract.
Green Coffee Bean is also great for sports formulations because it can work to stimulate the production of cortisone and adrenalin in the body resulting in increased stamina.
What is Chlorogenic acid:
Chlorogenic acid is a phenolic natural product isolated from the leaves and fruits of dicotyledonous plants, including the coffee bean, . Structurally, chlorogenic acid is the ester of caffeic acid with the 3-hydroxyl group of quinic acid.
Chlorogenic acid, an ester of caffeic acid and quinic acid, is a major phenolic compound in coffee, but is also found widespread in plants and can be isolated from the leaves and fruit . This compound, long known as an antioxidant, also slows the release of glucose into the bloodstream after a meal.
This acid is an important factor in plant metabolism. It is also an antioxidant and an inhibitor of the tumor promoting activity of phorbol esters; at concentrations as high as 100 μg/L, does not inhibit the 5-lipoxygenase activity of ionophore-stimulated human polymorphonuclear leukocytes.
Chlorogenic acid and caffeic acid are antioxidants in vitro and might therefore contribute to the prevention of Type 2 Diabetes Mellitus and cardiovascular disease.
Benefits and Uses:
There is a significant correlation between consumption of green coffee and weight loss. That is, the weight loss is due to chlorogenic acid, which is thought to reduce the absorption of glucose and lower the hyperglycemic peak.
The indications for use of this supplement are: Obesity, low MBR, cellulite and extra weight.
Safety Concerns:
You should not take Green Coffee Bean Extract if you are pregnant or breastfeeding, because this lead to the fetus or baby of hyperactivity can; If you have ever had a heart attack or other heart problems. Consult your doctor if you take any medication or have health problems before you start with the Green Coffee Bean. Avoid caffeine-containing beverages when taking Green Coffee Bean to avoid caffeine overdose.
Dosage Information:
400 mg, three times a day, 30 minutes before meals, is the best dosage of Green Coffee Bean Extract.
Please consult the manufactuer of dietary supplement, which should be based on the clinical trials