You are in:
Home
-
Products
-
Hot Products
Hot Products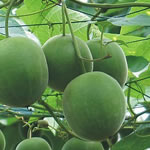 Luohanguo((Lo Han Guo) ) Extract
Latin Name:Momordica Grosvenori Swingle
Active Ingredient:Mogrosides,Mogroside V
CAS No:88901-36-4
Specification:Mogrosides 80%; Mogroside V 20%-65%,HPLC
MOQ:1kg
Lead Time:Within 7days after confirming order


Luohanguo Extract Information:
Luo Han Guo is a natural sweetener in powder form, low calorie, up to 350 times sweeter than sugar.It is a brown to white powder.
Part used: Fruit
Packaging:25KG per drum
Storage:Store in cool, dry place.

History:
Luo Han Guo is a perennial vine, cultivated in northern Guangxi of China. Its dried fruits are ellipse or round, with brown or snuff surface and abundant small pale and black hairs. People have used it for centuries for both its sweet flavor and its medicinal property in China. After processed, it can be used as a remedy for colds and congestion of the lung. Nowadays Luo Han Guo is used as a low calorie-sweetening agent in juices or drinks, or it can be made into a desirable beverage itself.
Benefits:
1. Luo Han Guo Extract (Mogroside) has been used in traditional Chinese medicine for colds, coughs, sore throats, gastrointestinal disorder, as well as a blood purifier.
2. Luo Han Guo Extract (Mogroside) is easily soluble in water without any sediment. The Extract contains 80% or greater Mogroside. Mogroside is 300 times sweeter than cane sugar and is low in calories. It is a stable, non-fermentable additive ideal for Diabetics.
3. Luo Han Guo Extract (Mogroside) contains high amounts of amino acids, fructose, vitamins and minerals. It is also used in traditional Chinese cooking for flavor and nutrition. It is a versatile natural sweetener that is ideally suited to replace artificial sweeteners such as aspartame. It works well in beverages, baked foods, nutritional foods, diet foods or any food product that requires either a low to no carbohydrate sweetener or low to no calories. Cooking or baking does not affect the flavor or sweetness of it.

Application:
Luo Han Guo Extract can be used in foods, beverages, supplements, pharmaceuticals, personal care & beauty products globally.Stability:Luo Han Guo Extract has been shown to be very stable in a variety of applications.(Stability data is available upon request.)
Safety:
Luo Han Guo Extract (Mogroside) is safe when used as directed. No adverse effects have been associated with its use.

Chemistry:
This production is composed of Mogroside IV and Mogroside V. are listed below:English: Mogroside V
Molecular formula: C60H102O29
molecular weight: 1287.43
CAS#: 88901-36-4
Sugar degree compared:
| | | | | |
| --- | --- | --- | --- | --- |
| Sweetener | Sugar | APM (Aspartame) | Stevia | Luo Han Guo Extract (Mogroside) |
| Sweeter | 1 | 200 | 250-350 | 300-350 |
Suggestion comments:
If you use 72mg APM in previous formula,now you can use Mogrosides 80%; Mogroside V 25%48mg instead.