You are in:
Home
-
Products
-
Hot Products
Hot Products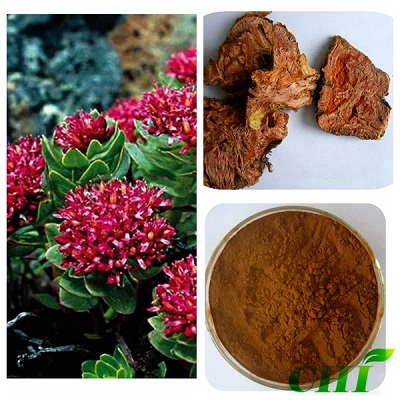 Rhodiola Rosea Extract
Latin Name:Rhodiola rosea
Active Ingredient:Salidroside,Rosavin
CAS No:10338-51-9/84954-92-7
Specification:1%-5%Salidroside,Total Rosavins
MOQ:1kg
Lead Time:Within 7days after confirming order


Rhodiola Rosea extract-Low solvent resides(Third party quality report available)
Latin Name:Rhodiola rosea
Active Ingredient:Rosavins
CAS No:-
Specification:1%-3%Salidroside, 1%-3% Rosavin,3%-7%Total Rosavins
MOQ:1kg
Lead Time:Within 7days after confirming order
Rhodiola Rosea Extract Information:
Rhodiola rosea (Rose root) is a plant in the family Crassulaceae that grows in cold regions of the world. These include much of the Arctic, the mountains of Central Asia, the Rocky Mountains, and mountainous parts of Europe, such as the Alps, Pyrenees, Carpathian Mountains, British Isles, Scandinavia and Iceland.
Rhodiola rosea extract is extracted by ethanol,it is a brown powder.
Part used: Roots
CAS No:10338-51-9
Active Ingredients:Salidroside
Molecular Formula: C14H20O7

CAS No:84954-92-7
Active Ingredients:Rosavin
Molecular Formula: C20H28O10
Packaging:25KG per drum
Storage:Store in cool, dry place.
History:
Rosea root has been used in traditional European medicine for over three thousand years, mainly as a tonic. Modern research has shown that it increases the body's resistance to any type of stress by regulating the body's hormonal response. Its use has been shown to have a protective effect upon the neurotransmitters such as serotonin in the brain. It improves neurotransmitter activity by inhibiting their enzymatic destruction and preventing their decline caused by excessive stress hormone release. Rose root also enhances the transport of serotonin's precursors into the brain and studies have shown that use of this herb can increase brain serotonin by up to 30%. The root is adaptogen. It has an enhancing effect upon physical endurance and sexual potency. A decoction of the flowers has been used to treat stomach aches and intestinal discomfort. The raw flowers have been eaten in the treatment of tuberculosis.
Benefits:
In recent years, dozens of uses for Rhodiola rosea have been proposed, including treating depression and fatigue, enhancing memory and intellectual capacity, increasing work performance and endurance, and stimulating the nervous system. Many of these potential benefits relate to the herb's adaptogenic qualities.
One particularly interesting aspect of rhodiola is that it appears to work differently within the body than other adaptogens--the best known of which is the very popular herb Siberian ginseng. Rhodiola's unique mechanism of action excites researchers because it means this herb may be able to provide a therapeutic alternative to established adaptogens.
Some of the current findings on rhodiola are still preliminary and relate to complex physiological interactions in the body's chemistry. But put simply, rhodiola appears to work by influencing key central nervous system chemicals--neurotransmitters called monoamines. An imbalance of monoamines is believed to be involved in several hard-to-treat illnesses, such as fibromyalgia, chronic fatigue syndrome, and seasonal affective disorder (SAD); some herbalists believe taking rhodiola to normalize monoamine levels may benefit these ailments.
In contrast, most other adaptogens, such as Siberian ginseng, seem to boost the body's reserves by enhancing the output of stress-fighting hormones from the adrenal glands.
Other studies on rhodiola have shown benefits in such varied areas as increased learning capacity and memory enhancement, regulation of menstrual periods and infertility, reduction of side effects from cancer chemotherapy, increased sexual libido and erectile dysfunction, enhancement of thyroid gland function, increased capacity for work and endurance, and protection from environmental toxins.
Dosing:
Rhodiola rosea supplements can enhance your overall sense of vitality and strength. The recommended daily dose of Rhodiola rosea extract is approximately 300 milligrams, standardized to at least 1% salidroside, and 2-3% rosavins. You should notice improved mental and physical effects after ten days.
Application:Rhodiola rosea extract can be used in food additives, beverages, supplements, pharmaceuticals, personal care & beauty products globally.
Safety:
Rhodiola has been the subject of many clinical studies. No side effects or interactions have been reported. Animal studies indicate that rhodiola has a low level of toxicity. Don't take rhodiola during pregnancy or while breast-feeding. There is no information available about the safety of rhodiola in pregnancy or lactation. Insomnia may be a risk with high doses of rhodiola. A high dose is considered to be daily intakes of 1,500 to 2,000 mg and above of a Rhodiola rosea standardized extract.
There are no well-known drugs or nutrient interactions associated with Rhodiola rosea. However, much remains to be learned about this herb and how it may interact with other adaptogens, such as Siberian ginseng, as well as with other dietary supplements.