You are in:
Home
-
Products
-
Standard Extract Series
Standard Extract Series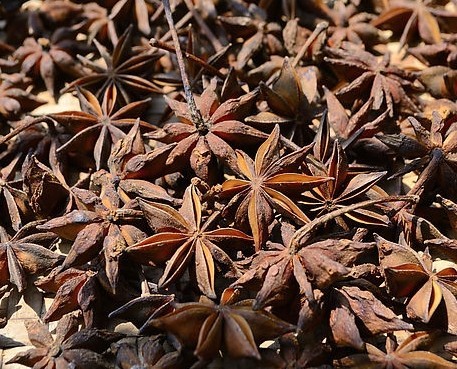 Star Anise Extract/Shikimic Acid 98% HPLC
Latin Name:Illicium verum
Active Ingredient:Shikimic Acid
CAS No:138-59-0
Specification:Shikimic Acid 98%
MOQ:1kg
Lead Time:Within 7days after confirming order


Star anise Extract Information:
Specifications 1.Specs: 98% Shikimic Acid HPLC
2.Appearance: White Powder
3.CAS: 138-59-0
4.Origin: Fruit of Illicium verum
Shikimic acid
Synonyms: 3, 4, 5-Trihydroxy-1-cyclohexene-1-carboxylic acid
CAS: 138-59-0
Molecular formula: C7H10O5
Molecular weight: 174.16
Appearance: White Powder
Origin: Fruit of Illicium verum
Purity: 98% HPLC
Functions:
1.Star anise (Illicium verum) has been shown to possess potent antimicrobial properties. Chemical studies indicate that a major portion of this antimicrobial property is due to anethole present in the dried fruit. Studies with isolated anethole (compared with standard anethole) indicated that it is effective against bacteria, yeast and fungal strains.
2.Shikimic acid is a key intermediate in the biochemical pathway from phosphoenolpyruvic acid to tyrosine. It is a precursor of many alkaloids, aromatic amino acids, and insole derivatives. Shikimic acid is widely used as a chiral building block for the synthesis of pharmaceuticals. An example of end product is an antiviral drug oseltamivir, a neuraminidase inhibitor used in the treatment and prophylaxis of both influenza A and influenza B.
3.Shikimic acid is a high valued compound used as a key starting material for the synthesis of the neuramidase inhibitor GS4104, which was developed under the name Tamiflu for treatment of antiviral infections.